Life Verse - Jeremiah 29:11
By Paul Basden
Jeremiah 29:11
Electronic message notes
Download fill-in-the-blank message notes for your favorite eReader. Notes with the blanks filled in will be posted here after the message.
iBooks Notes Kindle Notes PDF Notes
Message Notes: Filled In
"For I know the plans I have for you," declares the LORD, "plans to prosper you and not to harm you, plans to give you hope and a future." (Jeremiah 29:11)
Why do so many people love this verse? Because everyone has felt forgotten!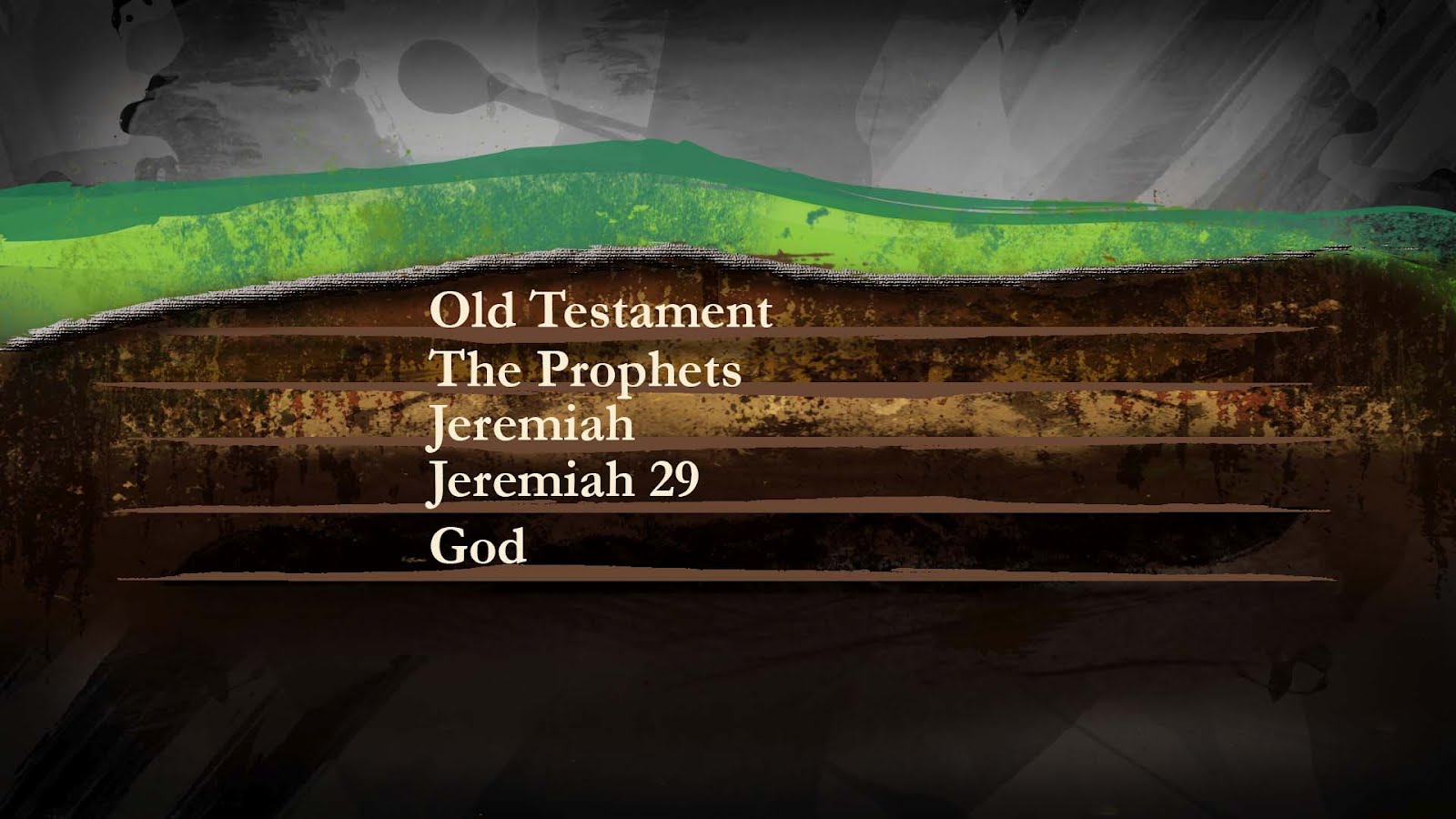 1st Layer: Old Testament
2nd Layer: Prophets
3rd Level: Jeremiah
What did Jeremiah say that got him in so much trouble?
"Turn back to God, reject your evil ways, be true to the covenant, & God will

bless

you … but if you refuse, God will

judge

you!"
3 For twenty-three years, the word of the LORD has come to me and I have spoken to you again and again, but you have not listened. 4 And though the LORD has sent all his servants the prophets to you again and again, you have not listened or paid any attention. 5 They said, "Turn now, each of you, from your evil ways and your evil practices, and you can stay in the land the LORD gave to you and your fathers for ever and ever. 6 Do not follow other gods to serve and worship them; do not provoke me to anger with what your hands have made. Then I will not harm you. 7 But you did not listen to me," declares the LORD, "and you have provoked me with what your hands have made, and you have brought harm to yourselves." 8 Therefore the LORD Almighty says this: "Because you have not listened to my words, 9 I will summon all the peoples of the north and my servant Nebuchadnezzar king of Babylon," declares the LORD, "and I will bring them against this land and its inhabitants and against all the surrounding nations. I will completely destroy them and make them an object of horror and scorn, and an everlasting ruin. … 11 This whole country will become a desolate wasteland, and these nations will serve the king of Babylon seventy years. 12 But when the seventy years are fulfilled, I will punish the king of Babylon and his nation, the land of the Babylonians, for their guilt," declares the LORD, "and will make it desolate forever." (Jeremiah 25:3-12)
4th Layer: Jeremiah 29
"Bloom where you're planted"
4 This is what the LORD Almighty, the God of Israel, says to all those I carried into exile from Jerusalem to Babylon: 5 "Build houses and settle down; plant gardens and eat what they produce. 6 Marry and have sons and daughters; find wives for your sons and give your daughters in marriage, so that they too may have sons and daughters. Increase in number there; do not decrease. 7 Also, seek the peace and prosperity of the city to which I have carried you into exile. Pray to the LORD for it, because if it prospers, you too will prosper." (Jeremiah 29:4-7)
God can only bless you where you are, not where you aren't
"Forget the former things; do not dwell on the past. See, I am doing a new thing! Now it springs up; do you not perceive it? I am making a way in the desert and streams in the wasteland." (Isaiah 43:18-19)
"Despite what you may think, God is still good"
10 This is what the LORD says: "When seventy years are completed for Babylon, I will come to you and fulfill my gracious promise to bring you back to this place. 11 For I know the plans I have for you," declares the LORD, "plans to prosper you and not to harm you, plans to give you hope and a future. 12 Then you will call upon me and come and pray to me, and I will listen to you. 13 You will seek me and find me when you seek me with all your heart. 14 I will be found by you," declares the LORD. (Jeremiah 29:10-14)
5th Layer: God
God is

Great
All-present:
All-knowing:
All-powerful:
God is

Holy
Righteous/just:
Changeless/faithful:
Jealous/angry:
God is

Love
Gracious:
Merciful:
Patient:
"When you call on me, when you come & pray to me, I'll listen. When you come looking for me, you'll find me. When you get serious about finding me & want it more than anything else, I'll make sure you won't be disappointed. I will be found by you ..." (Jeremiah 29:12-14)
"I know what I'm doing. I have it all planned out – plans to take care of you, not abandon you, plans to give you the future you hope for." (Jeremiah 29:11)
Worship Playlist